CO-Z 1800 lb Automatic Sliding Gate Opener with 2 Remote Controls, Electric Rolling Driveway Slide Gate Motor – REVIEW
Imagine you're walking through a magic land of gate openers; there are the
Mighty Mule
,
Ghost Controls
,
Liftmaster
,
US Automatic
all in the front row, convincing you to buy them. But if you dare look beyond the front row, you just might find other high-quality products, jumping and trying to get your attention.
The CO-Z 1800 lb Automatic Sliding Gate Opener
is one of those jumpers certainly worth mentioning as it delivers remarkable performance at a very affordable price.
CO-Z 1800 lb REVIEW
The installment of any product can be pricy, so CO-Z did everything to make this gate opener very user friendly and perfect for DIY setting. Once placed onto your gate you will get the chance to see that it truly has a smooth operation as well as an Auto-Close feature that leaves the gate open for 15, 30 or 45 seconds before closing it.
If you live in hotter areas, this gate opener could be useful as it possesses a thermal protector that kicks in when the motor reaches up to 120°.
The best part is…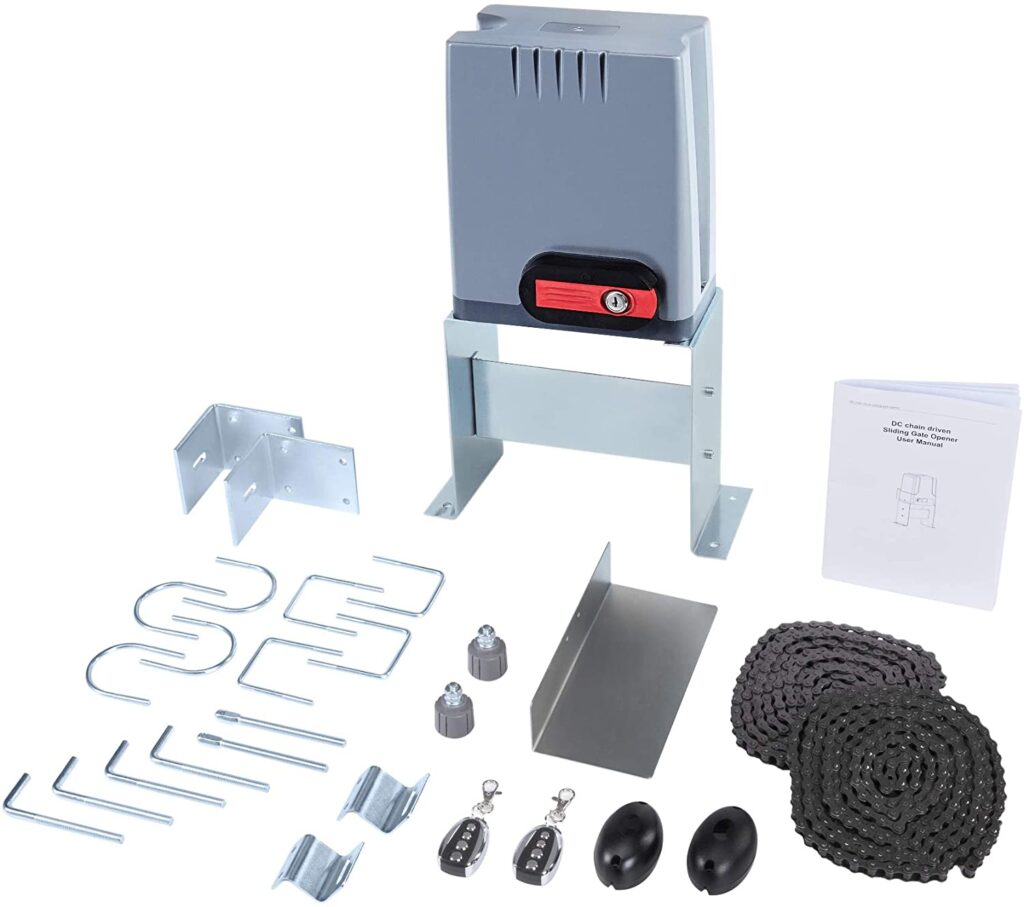 You can add different compatible accessories including solar panels. A nice addition are also the infrared sensors that stop the gate if any obstacles are detected. This gate opener is kept from misalignment as it has magnetic limit switches that automatically buffer the operation.
Safety and security means a lot today, so CO-Z put high-end encryption in to their receivers/transmitters in order to prevent unauthorized access.
CO-Z 1800 lb – What do you get?
There are no surprises here. You get what you see: one CO-Z 1800 lb automatic sliding gate opener, two practical remotes, all the necessary mounting hardware and a basic user manual.
Additional Features
This unit is made to operate gates with the maximum weight of 1800lb and the maximum length of 40 feet.
If you take look at the motor power it is 380W while the speed is approximately 55 RPM.
The noise level is reasonably low (56decibles) and can be compared to a refrigerator humming.
You get 2 remotes but CO-Z went a bit further and gave the option of adding up to 25 remotes controllers.
The thing that could be a problem to some people is the maximum remote range which is up to 100 feet. 
User experience
Setting up CO-Z 1800 lb automatic sliding gate opener proved to be as easy as they claimed. Only the remote or the key open the gate which makes your home even more secure. A very practical unit that does the job and makes no noise at all. Users haven't had any problems with this gate opener and are generally pleased.
The Pros
Built to last
Auto-Close feature
Overheat protection
Prevention of unauthorized access
Waterproof
Can be upgraded
Affordable
The Cons
No customer support
Potential errors in the manual
Why choose CO-Z 1800 lb Automatic Sliding Gate Opener?
If you are tired of the same brands of gate openers that are overflowing the market and what to try something different that won't let you down, then this is definitely your choice. Lightweight, easy to install and reliable, what more can you want? The best part is that it is totally affordable. We might even think that the customer support doesn't exist because they don't need one.
Now, that's good advertising!