Mighty Mule MM571W Heavy Duty Smart Gate Opener, Single, Black – REVIEW
Oh, that Mighty Mule...
This uprising company offers you a wide range of automatic and smart gate and garage door openers as well as all the accessories and replacement parts you can think of. You can find a gate opener for any budget and be extremely satisfied with your purchase. If you need a high-quality gate opener for your home, ranch, industrial or light professional applications, just knock on Mighty Mule's door – it is most likely that they have exactly what you need.
Mighty Mule MM571W Heavy Duty Smart Gate Opener REVIEW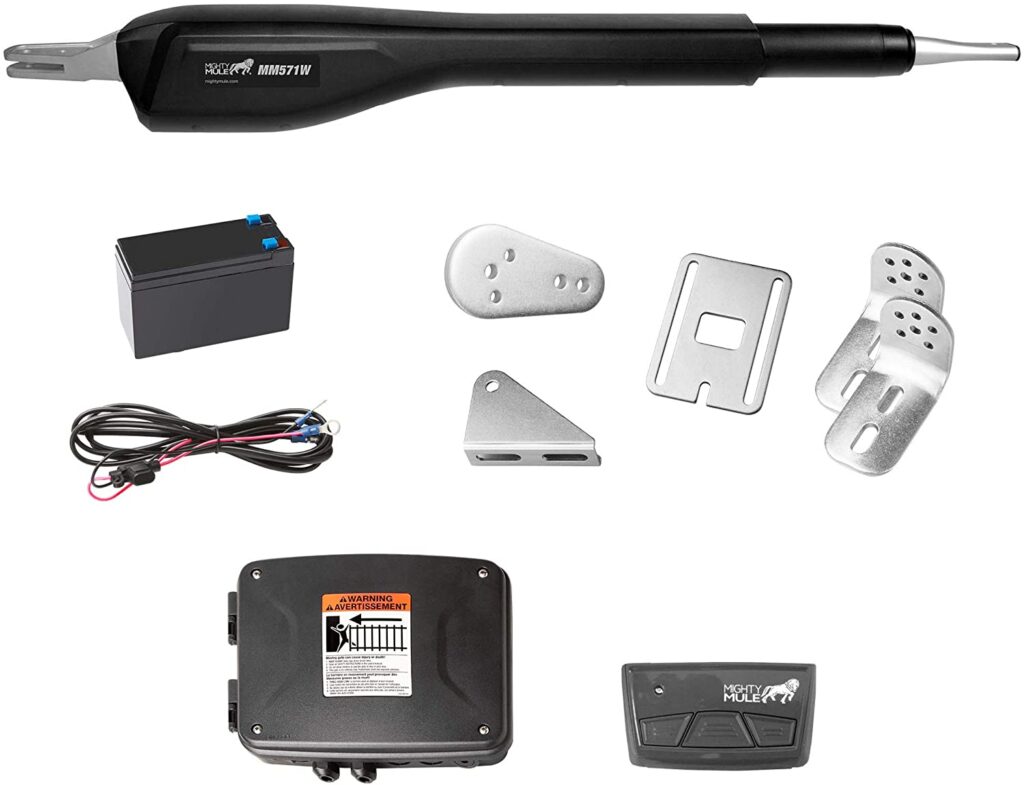 Yet again Mighty Mule has managed to make another reliable product with outstanding performance. This gate opener differs from others as Mighty Mule company went a step further and designed an app that gives you total control of opening your gates via smartphone. When you find yourself 1/2 mile from your gate just grab your phone and open the gate. Of course, there is a catch here: you need to get a MMS100 wireless connectivity kit which is sold separately.
The best part is…
This gate opener is solar capable. If you are an eco-friendly type of person, just add a Mighty Mule – watt solar panel (Model #FM123) and let the Sun handle your gate opening. Another innovation that characterizes this smart gate opener is that the operation is 40% faster than any other previous models. Don't expect it to be Flash, just faster than expected.
Also, a nice gesture by our Mighty Mule friends is unlimited access to a 24-hour technical support.
Take a look inside the box
With this purchase you get everything you need to install the gate opener by yourself:
Remote with Visor Clip, an AC Transformer,
a 12 Volt Battery (Model #FM150),
a control box,
all required mounting hardware,
as well as an installation manual with online how-to videos.
Mighty Mule MM571W gate opener features
This model is made specifically for heavy duty single swing gate types such as chain link, tube, panel, ornamental, vinyl and wood. It basically fits any single gate material.
The maximum gate length it corresponds is 18ft while the maximum weight is 850 lbs.
The rear mount is made from new cast aluminum double shear while the new streamlined design contributes to a smooth and quiet operation.
A hinged control box design allows additional control board protection and improved reliability in harsh environments.
Firsthand experience
Based on online reviews by other users two extremes have been made: either they are completely satisfied, or they hate it. To save you the trouble of going through all the reviews, let me sum it up.
Those who hate it mainly had troubles with the installation or with faulty parts damaged during transport.
Another thing is remote problems which are solved easily with a proper antenna.
The other half of users who are satisfied, report that it does actually open the gate much faster.
In comparison, this model is 48% faster

than the

Mighty Mule FM500

. The operation is quieter than any other model and the installation last about 4 hours. This surely is one of the 100% reliable models.
Mr Pros
Smartphone control
24h technical support
Reliable performance
Secure operation
40% faster than previous models
Good value for price
Mrs Cons
If you are not handy, it's not so easy to install
Potential troubles with damaged parts
Got any Mighty Mule problems?
1. My Mighty Mule MM571W gate opener stopped working
This is probably the scariest thing that could happen to you, but, don't panic. Just test out the circuit board and see if it is operative. If it doesn't work you will need a new one. Contact Mighty Mule support team right away.
2. Mighty Mule MM571W makes spinning noises
Open the plastic cover of the operator arm. See if the plastic sprockets are in place. If they broke off, that's what is making the noise. You will need to replace them.
3. Mighty Mule MM571W remote not functioning
The possible reason for this is that the antenna is not placed properly or is placed in a position where something is blocking the signal. Please revise the position of the antenna.
4. Mighty Mule MM571W blowing fuses
This problem has a really easy fix. The polarity of the wiring is reversed, so get it right and the unit will work like a charm.
Why choose Mighty Mule MM571W?
If you want a faster gate opener with a silent operation, this is the best choice for you. The Mighty Mule MM571W Heavy Duty Smart Single Gate Opener wears a crown is smartness, smoothness and simplicity. The actual trick is to install it properly and then the world is yours.