Best gate openers under 500$ – full review
In this article, I will review the best gate openers under 500$.
When you are scrolling down and looking at gate openers on Amazon, you realize that they are pretty expensive. And if they are cheap, the main concern of every potential buyer is that they would be a waste of money.
Since the price is a crucial factor in any purchase, we decided to present to you the best 3 models of gate openers that are under 500$. Each one is highly recommended and will do its part. You role is to find the most suitable for your needs.
1. Mighty Mule MM560 Automatic Gate Opener for Heavy Duty Single Swing Gates for 18′ Long or 850 lb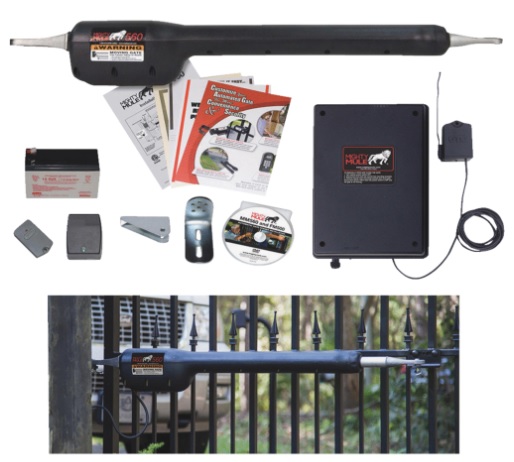 Mighty Mule MM560 Automatic Gate Opener is the first one to be presented, since the very name Mighty Mule screams high quality. This system is made for every single gate types ranging from ornamental, tube, chain link to panel, vinyl and wood, with the option of opening into or out of the property.
It get's better
This Mighty Mule model offers the exclusive Dual Sense Technology that meets UL325 6th Edition Standards for additional protection and safety. It also features a professional grade Soft Start/Soft Stop that increases hardware and opener lifetime.
There is also a built-in battery backup in case of power outages as well as the optional solar panel charger kit. The remote button allows you to open up the gate from the comfort of your car and the installation process has never been easier (just don't be lazy and read the manual).
What's in the box?
Well this is a full package. It contains all the mounting hardware and brackets, one gate opener arm, control box, receiver, control board and 12-volt 7 amp-hour battery. However, that's not all, it also has an AC transformer, transmitter, single button remote, detailed installation manual and interactive DVD.
Dimensions and specifications
Mighty Mule MM560 has the dimensions 45 x 16 x 6 inches and it weighs 30.5 pounds.
Specifications:
Max height: 18 feet
Max weight: 850 pounds
Voltage: 12 volts
Gate type: Single swing
Warranty: 18 month

Check out other Mighty Mule gate openers.
BOOKMARK THIS POST FOR LATER
THE PROS
Affordable price
Easy DIY installation (detailed manual and DVD)
Built for heavy duty applications
Access to 24/7 customer support
Solar capable
Auto close option with alarm
Battery included
For gates that open into or out from the property
THE CONS
Friendly advice: when the package arrives, check if everything is present. Don't wait until you decided to install the system.
For additional help with the installation, check out a user video.
To conclude
System made for DIY installation with great performance and an excellent price. The solar powering option is a nice touch by Mighty Mule. If you need a gate opener and you have a limited budget, try this product. Just follow the instructions precisely and enjoy being a part of the Mighty Mule user family.
2. E8 400MM Stainless Automatic Gate Opener for Gates up to 26 Feet Long and 1200 Pounds for Dual Swing Gate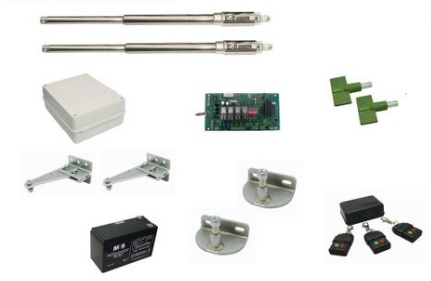 Another great gate opener model for under 500$: the E8 400MM Stainless Automatic Gate Opener has the ability of opening 2 leafs that are up to 26 feet long and weigh up to 1200 pounds. This fact alone, shows the great capacity of the E8 4000MM. It also possesses a Screw Driven type system that increases reliability as well as manual release keys.
With this gate opener you don't have to worry of getting out of your car to open the gate even in the case of power outages. It has a battery backup system that will provide the full opening service 24/7.
But it get's better
This gate opener also offers the energy efficient option and it is solar compatible. A 1 year warranty is also given by the manufacturer.
Despite being cheaper that other high-end gate openers, this model does not renounce quality, it actually shows the opposite: a sturdy high quality gate opener. Therefore it is on this list of the best gate openers under 500$.
What's in the box?
This box of delights includes:
A dual Stainless Steel Arm 400MM operator
1 control box with D1 Control Board
1 Receiver with 3 remotes transmitter units
1 transformer 110Vac to 16Vac
1 Backup 7AH lead acid Battery
2 release Keys
2 primary wall Brackets
2 secondary brackets
2 door holding brackets, bolts and nuts for brackets
A safety decal
An installation manual
Now, that what you call a full box.
Dimensions and specifications
Dimensions of the E8 400MM gate opener are 32 x 12 x 9 inches and the system weighs 41.5 pounds.
BOOKMARK THIS POST FOR LATER
Specifications:
Supply Voltage: Single Phase AC220-240VAC or SOLAR
Backup Battery: Lead Acid Maintenance Free 12V 7AH
Operating Voltage: DC 16-18V
Driving Method: Screw Driven Type
Operating Cycle: 10-12 seconds per 90 degrees
Max. Piston Stroke: 300mm
Max. Piston Speed: 3cm/sec
Electronic Controller: Micro-Processor Based
Remote Controller: 2 channels, 330 MHz
THE PROS
Easy installation
Affordable price
Solar compatible
Great capacity
Backup battery
Detailed installation manual
Enhanced reliability due to screw driven type system
THE CONS
Only for dual swing gate models
To conclude
This gate opener truly offers you great quality for a low price. It is easy to install (around 4 hours needed) and even easier to use. The remote device offers you a good distance, so when you are at the gate, no need to stop, it's already opened. Another great thing is the fact that it is smooth and quiet, we all value silence these days. For a limited budget this gate opener will make your money worth.
3. Ghost Controls TSS1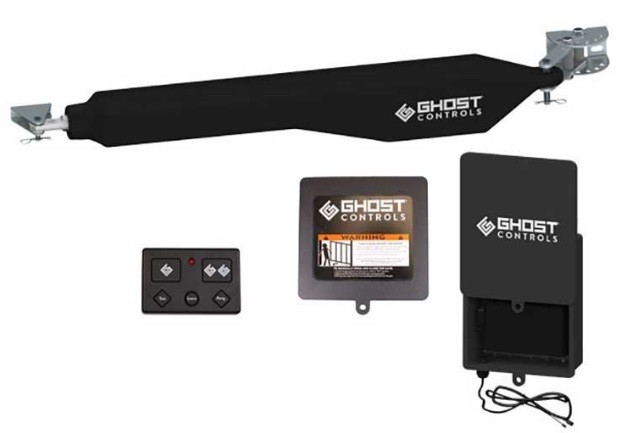 The Ghost Controls TSS1 is a gate opener that lately had a real up rise and was the choice of many. That is one of the reasons it showed up on the best gate opener for under 500$ list. It is a heavy-duty single automatic gate opener made for swing gates with the height up to 20 feet.
The quiet motor opens different types of gates: decorative, tubular, ornamental, chain link and plantation gates. The required fasteners and installation hardware is included and the installation process itself is easy. Upon installing you will see for yourself that you have purchased an innovative, reliable system that will open your gates for a long time. As you can assume the system is also solar compatible.
The company offers a lifetime warranty on the motor and gear assembly which is also one of the reasons people decide to buy this unit. An 18 month warranty is provided for the remaining parts.
What's in the box?
The Ghost Controls TSS1 kit contains:
The Gate Opener Arm with 6′ cable
The System Control Box with Controller, Mounting Brackets and Fasteners
1 AXS1 Standard 3-button Remote Transmitter
Installation Manual
Documentation on Motor and Gear Box
UL Listed Resettable AC Transformer
Battery Harness
Two Warning Placards
Dimensions and specifications
The dimensions of the Ghost Controls TSS1 are 37.8 x 9.2 x 7.5 inches, and the system weighs 22.6 pounds.
Specifications:
Single gate kit
Battery powered
Weight capacity up to 300 pounds
Voltage: 12 volts
Maximum gate length: 20 feet

The PROS
Quiet motor
Fast opening
Reliable
Affordable price
Easy installation
Detailed installation instructions
High quality hardware
Solar compatible
The CONS
Not included in the kit: a 12 volt battery
Check out the full review Ghost Controls TSS1
BOOKMARK THIS POST FOR LATER
To conclude
High quality, reliable, fast, quiet. These are the words that best describe the Ghost Controls TSS1 gate opener. And all of this is given for a price under 500$! If you have a gate that matches this gate opener, do not hesitate, this is the choice for you.