Ghost Controls TDS2XP Heavy-Duty Solar Dual Automatic Gate Opener Kit for Swing Gates Up to 20 Feet REVIEW
Facts about Ghost Controls gate openers
Ghost Controls is actually the leading designer and manufacturer for gate automation market with over 70 years of experience in the field. This company is like the Ironman in the gate openers industry. And just like Ironman it has a constant strive for progress. Therefore, it has introduced many innovations in noise reduction, speed and reliability. But surely, they didn't stop there. They have managed to provide safety and security to every user, as well as a trouble-free installation process and unlimited hardware. With these guys I am sure there is more to come.
Ghost Controls TDS2XP Heavy-Duty Solar Dual Automatic Gate Opener Kit for Swing Gates Up to 20 Feet – REVIEW
Ghost Controls TDS2XP is probably the perfect solution for your dual swing-type gates. It doesn't matter if you have a decorative, ornamental, chain link, tubular or even plantation gates, this gate opener is their ideal match. It is perfect for areas where electricity is not an option as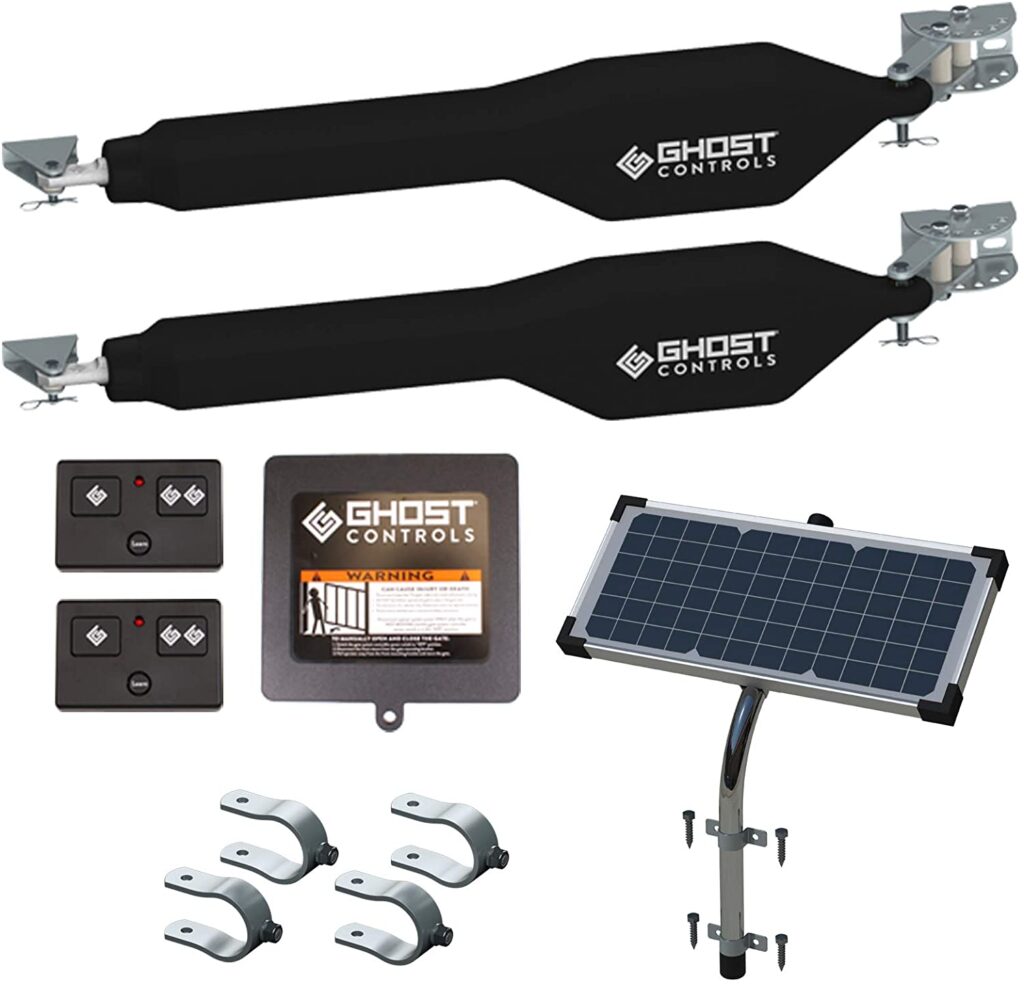 it offers the option of adding a suitable solar panel. If you possess a tubular style gate, thanks to the tube gate brackets your installation will be a real piece of cake. 
The best part is…
You actually get a lifetime warranty on motor and gearbox. This is something companies don't usually offer, but this one certainly did. It just says how sure they are in their products. Another great thing is the SafeForce Technology which automatically limits the amount of force that the system will exert while opening on the leading edge of a moving gate. This prevents entrapment injuries and also contributes to a much more reliable and simpler installation.
What do you get?
Ghost Controls really went all in with this product. In the package you will find dual opener arms:
one arm has a 6-foot cable and a second arm has a 30-foot cable;
the tube gate brackets and all the required mounting hardware;
two AXS1 3-Button Remote Transmitters;
one AXDP 10-Watt Monocrystalline Solar Panel; a 6 Foot Battery Harness with ring terminals and a Lifetime Limited Warranty on Motor and Gear Assembly.
The part you need but it is not included is an ABBT2 Battery Box Kit or a 12V Deep Cycle Battery.
Ghost Controls TDS2XP -Additional Features
Ghost Controls TDS2XP features a remote with an amazing range of up to 1000 feet. This 3-button standard remote transmitter can operate up to 2 different Ghost Controls gates.
Apart from the SafeForce Technology, this amazing model also has a GhostCode which allows authorized remotes, keypads and vehicle sensors to activate the gate system. This actually protects your system and keeps it secure from hackers.
The installation mode is DIY but you have all the instructions on video, so it should be a problem.
What do people say about TDS2XP?
The overall impression of users worldwide is that this was a once in a lifetime purchase. This is one of those rare moments were the manufacturer tells the truth about their product. Easy installation (if you follow the instruction carefully), excellent hardware, wireless keypad, top quality gate actuators and even the controller options are good. A well-designed gate opener that will give you trouble free service for many years to come.
The Pros
Easiest installation on the market
Reliable and quiet operation
Good quality hardware
Easy to program
Solar optimized
SafeForce technology
Transmitter range up to 1000 feet
Lifetime warranty of motor and gear
The Cons
A bit expensive
Battery not included
Got any Ghost Controls problems?
1. I can't program car door opener buttons
The first thing you need to do is to take the Ghost Controls remote with you and pull the car up to your gate. Hold the remote a few inches away from the car button and then press both the car button and the first button of on the remote at the same time. Hold them down (from 2-20 seconds) until the light in your car turn on or starts flashing, depending on the car model.
Note: If it doesn't work, try holding the remote on the other side, right instead of left.
2. My Ghost Controls gate opener not working
If your gate opener suddenly stops working and your battery seems fine, please check the control panel. It is very likely that you will be needing a new one.
Why choose Ghost Controls TDS2XP?
When choosing a product, we always pay extra attention to the comments that other customers wrote. Well, with Ghost Controls TDS2XP you don't need to read between the lines. It is everything they say and more. If it fits your budget do not hesitate at all; let this Ironman product into your home.