Ghost Controls Architectural Series Automatic Gate Opener Kit for Swing Gates Review
About GHOST CONTROLS®
An American company that specializes in creating easy to use gate openers. They produce high quality automatic gate openers for vehicular swing gates designed for residential single family installations. Each of their product has their unique trademark SafeForce® feature that automatically limits the amount of force exerted while opening the gates thus preventing injuries. They can also provide you with other features such as  PartyMode®, 1KEY®, PartyMode Secure® and more (check out the product description box on Amazon for more information about the features). The company creates innovative gate automation solutions for the North American market. Another important feature is that the gate openers use low voltage batteries (DC) and they are solar optimized in case you don't have access to AC power. The products require minimum maintenance and are easy to install using a Do-It-Yourself installer. GHOST CONTROLS® provide their customers with customized solutions for the residential and agricultural markets.
Why choose the Ghost Controls Architectural Series Automatic Gate Opener Kit?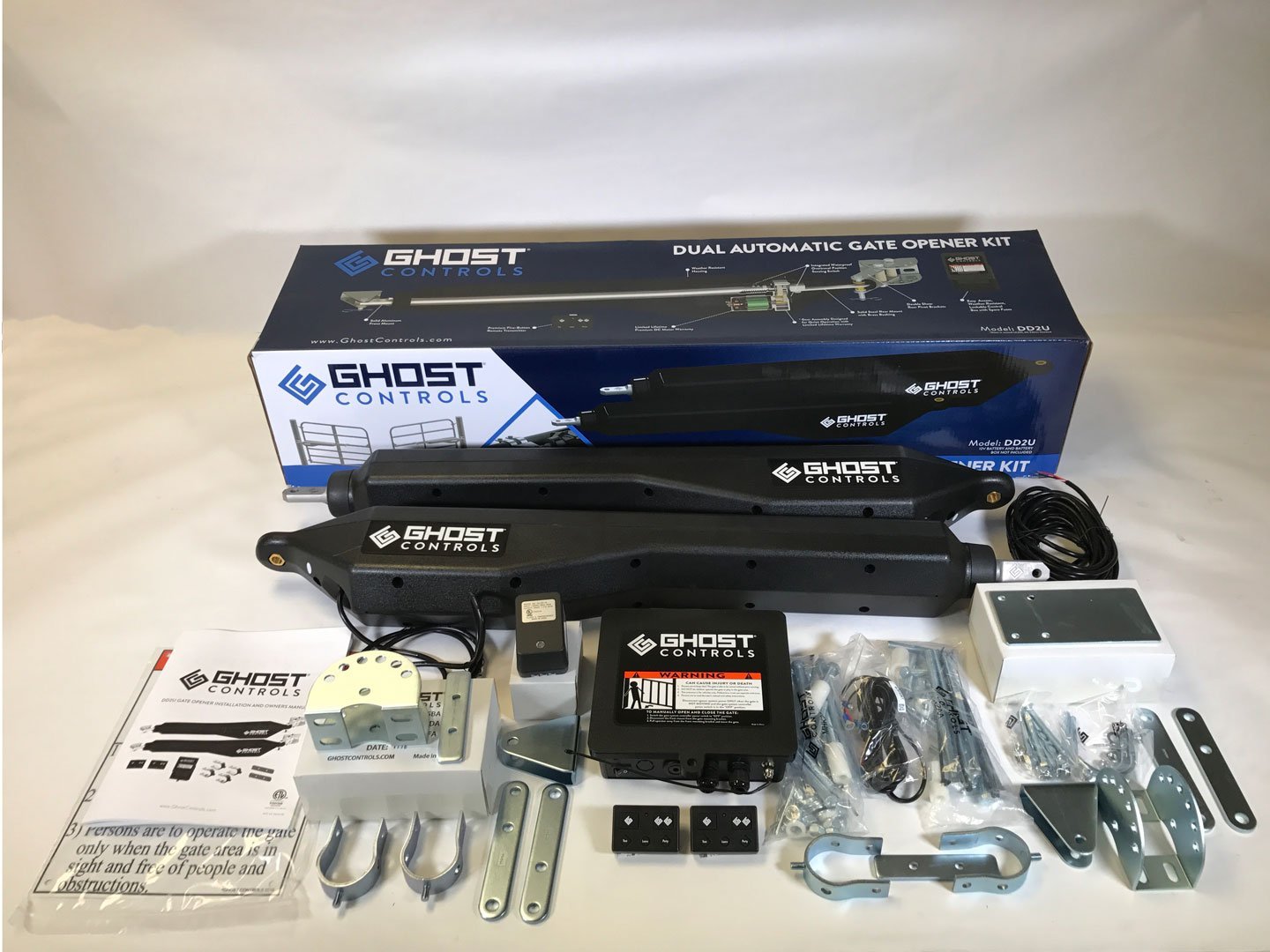 Let's start with the basics: it is a number one choice for Decorative Swing-type and Tube Swing-type gate openers because it is optimized for them! It is made for gates up to 20 feet (6.09 m) long and can work with gates weighing up to 600 pounds (272.15 kg). Purchasing this item you will get a quiet and fast post mount Do-It-Yourself gate opener that works with tubular, chain link, or plantation style gates. It can be solar capable by adding an AXDP solar panel kit to your purchase so you should have no worries about recharging your battery. Speaking of battery (on which you will get more information below), the company has designed a separate lockable battery box that makes sure no acid leaks will occur thus eliminating any danger of damaging the system control board! Don't mind calling in experts to install your system since it is a piece of cake and requires commonly available tools. The product is ETL listed so you should not worry about safety!
What's in the box?
We are talking about a 2. DD2U Dual Kit so the Ghost Controls Architectural Series Automatic Gate Opener Kit includes: 2 AXP1 Premium remote transmitters, 2 operator arms, a control box with system controller, all mounting hardware including different sets of estate gate brackets for decorative gates and tube gate brackets for tubular gates! The kit also includes an instruction manual! The kit doesn't include the battery, but if you check the link to Amazon you'll see the best suggestion on which one to get: in this case it is the Ghost Controls ABBT2 Battery Box Kit. Since you are getting a gate opener it is also a good idea to get the Ghost Control AXXV Wired Vehicle Sensor that includes a 55 ft. (16.76m) cable for automatic gate opener systems.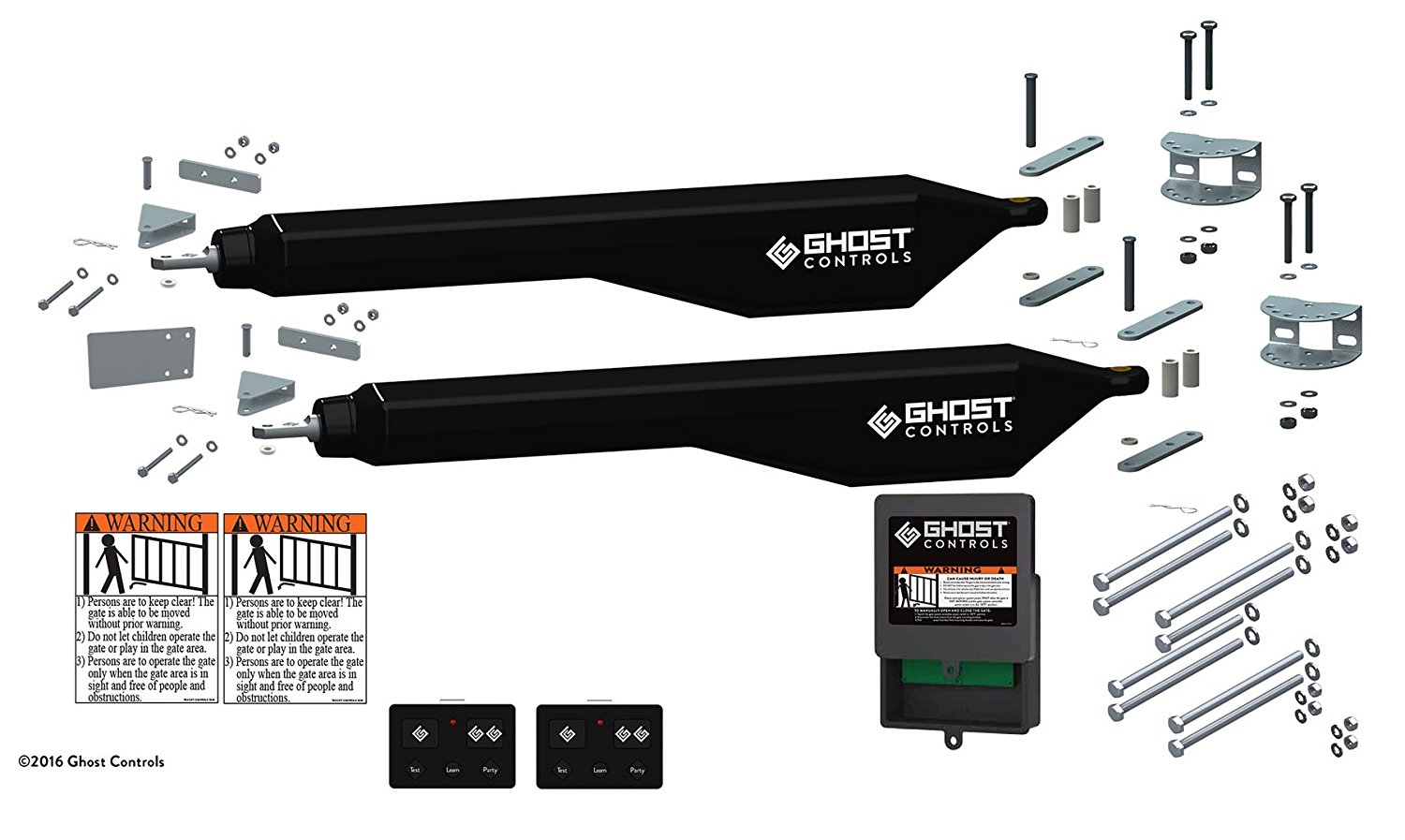 Product features and dimensions
Product style: 2. DD2U Dual Kit
The product dimensions are 44.5×10.8×9.2 inches (113.03×27.43×23.36cm) and it weighs 45.7 pounds (13.9kg). As I previously mentioned, it is ETL Listed meaning the safety is guaranteed. It has a SafeForce feature that limits the amount of force the automatic opener system will exert while opening the gate making sure that there will be no injuries. Thanks to the UL325 6th Edition Standard compliant technology you don't need photo beams if you don't want any! It has a variety of modes for special occasions that you can check out in the product description box on Amazon. The gate opener system is very easy to install having a Do-It-Yourself (DIY) installation system. It is battery powered and requires low voltage batteries (DC) and you can add a solar recharge system. The gate opener is used for vehicular swing gates and its capacities are 600 pounds (272,15kg) or 20 ft (6.09m) per gate leaf. The cherry on top is that is pretty fast.
BOOKMARK THIS POST FOR LATER
TO SUM UP:
Part Number: D Series
Item weight: 45.7 pounds (13.9kg)
Dimensions: 44.5 x 10.8 x 9.2 inches
(113.03×27.43×23.36cm)
Style: 2. DDU2 Dual Kit
Power Source: Battery-Powered
Voltage: 12 volts
Installation method: Do-It-Yourself
Max weight capacity: 600 lbs. (272.15kg) or 20 ft. (6.09m) per gate leaf
Certification: UL325
Usage: Vehicular Swing Gates
The battery
The Ghost Controls Architectural Series Automatic Gate Opener Kit requires a 12V battery that has a lead-acid cell type and a 730 day average lifespan. It is sold separately (it is not included in the kit) and comes with a specially designed lockable battery box that prevents any acid leaks! In case you decide to get the AXDP solar panel kit your battery will be able to recharge using solar power. The right choice for the batteries is the Ghost Controls ABBT2 Battery Box Kit that includes 2 batteries!
TO SUM UP:
Battery: Sold separately
Cell type: Lead acyd
Description pile: 12V Lead-Acid
Average Battery Life: 730 days
Warranty
The company offers a limited lifetime warranty on motor and gearbox, 18 month warranty for the remainder of the kit and a 12 month warranty on the battery.
Pros and cons
Pros:
Quiet
Easy to install (DIY)
Minimum maintenance
Fast
ETL Listed
SafeForce feature
Variety of features
Dual kit
No photo beams needed
Low voltage battery
Solar capable
Lockable battery box (no acid leaks)
Instruction manual
Great warranty
Cons:
Battery and solar panel not included in the kit
Review and final verdict
Having a chance to see and try out a product of this quality was a delight! I was amazed to see how flawlessly it worked and how simple it was to install the system. The speed of the machine is fantastic. The only problem is the lock that gives you a little trouble if you want it mounted vertically but it is solvable. The instruction manual is very helpful and everything in it is understandable.
The Ghost Controls really thinks a lot about their customers and gives them a variety of opportunities to work with as well as an easy to install system with everything they need. I assure you that you'll get your money's worth if you decide to purchase this machine and everything else suggested here!
BOOKMARK THIS POST FOR LATER