ALEKO AC1400ACC Sliding Gate Opener – Full Review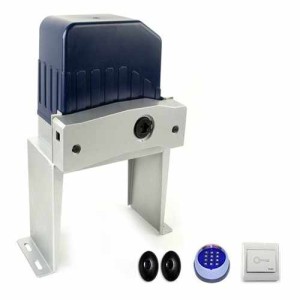 If you've been searching high and low for a quality electronic sliding gate opener that works on oversized gates (gates that are up to 50 feet long and weigh up to 1400 pounds), you're going to want to take a close look at the ALEKO AC 1400 ACC sliding gate opener.
Easily one of the most well-made electronic gate openers on the market today, this is the kind of high quality technology you're going to want to turn to when you need to open oversized gates automatically.
What makes the ALEKO Company so special?
A relative newcomer to the electronic gate opening industry (established only in 2005), the ALEKO Products Company is based out of Seattle, Washington and have been responsible for producing some pretty game changing pieces of technology in their short lifespan.
Known most for their wide variety of gate opening solutions, they back each and every one of their products with a lifetime warranty and stand behind their quality unlike any other company in the business.
What makes the ALEKO AC 1400 ACC so special?
Well, there are a lot of big benefits that really separate ALEKO AC 1400 ACC from the rest of the pack, but the number one feature would have to be the fact that it so easily manipulates and maneuvers oversized gates.
There aren't too terribly many competing products out there that can so effortlessly maneuver up to 50 foot gates that way upwards of 1400 pounds with absolutely zero extra effort whatsoever – giving commercial enterprises the opportunity to invest in very safe and secure gates that they'll still be able to open or close smoothly on demand.
Standout features of the ALEKO AC 1400 ACC
The real standout feature here would have to be the 120 V AC 1.5 HP motor that can easily maneuver even the largest and heaviest gates on the market today!
Dimensions for the ALEKO AC 1400 ACC
Impressively compact for a system that is capable of such "heavy lifting", you're going to love the entire ALEKO AC 1400 ACC system measures just 18.4" x 16.6" x 10.5" and weighs just under 20 pounds.
| | |
| --- | --- |
| Part Number | LockMaster AC1400ACCk |
| Weight | <20 pounds |
| Dimensions | 18.4 x 16.6 x 10.5 inches |
| Model number | AC1400ACC |
| Horsepower | 1.5 HP |
Here's what customers have to say about the ALEKO AC 1400 ACC
Customers are absolutely over the moon about the performance that this particular electronic gate opening solution offers, with many of them reporting that it has a buttery smooth opening and closing mechanism even on gates that other units released struggled with.
Final verdict
At the end of the day, there are a lot of electronic and automatic gate openers out there to pick and choose from, but only the ALEKO AC 1400 ACC offers the perfect blend of power, price, and performance you're looking for when it comes to oversized gates.