ALEKO AS1200 Electric Gate Opener Review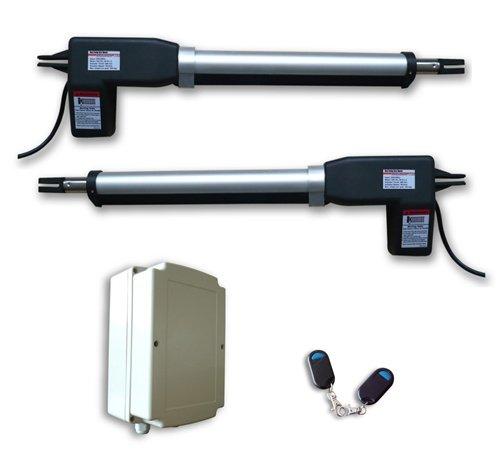 There are a lot of electronic gate opener solutions out there on the market today for standard sized doors and gates and oversized doors and gates – but there aren't too terribly many solutions out there that accommodate any of the doors and gates that fall somewhere in between those two extremes of the spectrum.
Thankfully, the ALEKO AS 1200 fills that gap nicely, providing people with a top quality solution that can handle any gate or door up to 10 feet long (per leaf) and 666 pounds (again, per leaf) with absolutely zero headache or hassle whatsoever.
What makes the ALEKO Company so special?
This incredible (and young) Seattle, Washington-based company was only found it in 2005, but almost from day one the ALEKO Company was able to establish a rock solid reputation as one of the most trusted and technologically advanced companies in the electronic gate and door opening industry.
They have continued to innovate and produce groundbreaking products on a regular basis, and likely will continue to do so for years to come.
BOOKMARK THIS POST FOR LATER
What makes the ALEKO AS 1200 so special?
The beautiful thing about the ALEKO AS 1200 is that it so perfectly serves the pressing need to have an electronic gate opening mechanism that works for doors and gates that are classified as "misfits".
Not exactly as small as a traditional sized gate but not exactly as large as oversized gates but instead falling somewhere in the middle, this option allows consumers to purchase a cost-effective product that works perfectly for their needs without any performance issues or pricing problems getting in the way.
Standout features of the ALEKO AS 1200
Of all the amazing features that this particular electronic gate operating solution brings to the table, the ability for it to use AC or DC power – traditional power sources or renewable energy sources are like – would have to be considered its standout benefit.
There's nothing like knowing that you'll be able to power this particular technology in any way that you wish, with absolutely zero headache or hassle whatsoever.
Dimensions for the ALEKO AS 1200
Just slightly larger than more traditionally sized subcompact ALEKO electronic openers, this entire unit weighs just about 28 pounds and measures in at 34" x 18" x 9".
| | |
| --- | --- |
|  Part Number | AS1200NOR |
| Weight | 28 pounds |
|  Dimensions | 34 x 18 x 9 inches |
| Model number | AS1200NOR |
| Designed for gates | up to 10-Feet (3 m) long per leaf and 660 lbs (300 Kg) per leaf |
It's almost as compact as anything else out there, which makes it ridiculously simple to install (even if you're tackling that project all on your own)!
Here's what customers have to say about the ALEKO AS 1200
This particular solution is so popular that almost every single review online make sure to mention that the customer purchase the ALEKO AS 1200 specifically to replace the Mighty Mule (a similarly sized solution and almost direct competitor).
Think of this as the evolution of the Mighty Mule, with all of the benefits (plus more) and none of the drawbacks.
Final verdict
If you've been searching for a quality electronic opener that is going to hit that sweet spot in the middle of traditionally sized doors and gates and oversized options, you'd have to be at least a little bit crazy not to consider investing in the almost brand-new ALEKO AS 1200.
It's just that good!
BOOKMARK THIS POST FOR LATER