Mighty Mule FM350-SINGLE Gate-Solar Package with Solar Panel Review
The Mighty Mule FM350 is already known as one of the most popular gate openers. This manufacturer has once more managed to launch a high quality product which is very beneficial to the customer's needs. The package contains the gate opener with the addition of a 10 watt solar panel, at a very affordable price. This Gate – Solar Package saves you around 42% and is made for every single gate use. You are also provided with a 12 month limited warranty.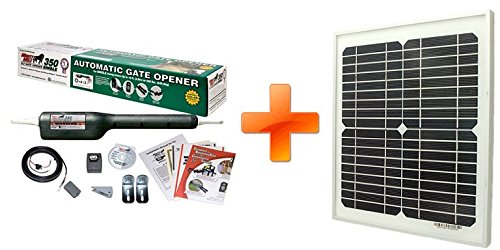 BOOKMARK THIS POST FOR LATER
What's in the box?
One opener for a single gate entry transmitter
A/C transformer
Control box
Receiver mounting brackets
Instruction manual video
10 watt solar panel
You may also need: A low voltage wire (RB509) to run the (110volt AC) plug-in transformer to the opener control board. You also need to know that the length depends on the distance between the transformer power supply and the opener arm.
Dimensions and features
Product dimensions are 53 x 7 x 20 inches and it weighs 28 pounds. With its AC or solar power it meets the needs of 100% of the user market, and also possesses optimum solar performance with 5/10/20 watt solar panel. Made for gates 550 pounds heavy and 16 feet long. Offers a maximum of 175+ cycles per day with up to 1.500 back-up cycles when the battery is fully charged.
Pros
Easy installation (electrician not needed)
Rapid recovery charging system
For all gates types (chain link, tube, ornamental and vinyl)
Cons
Battery for transformer and control box not included
To Sum Up
Mighty Mule FM350 already has an excellent reputation among users, and this 10 watt solar panel upgrade will only increase it even more. Solar power is the future, and Mighty Mule is becoming a part of it.
BOOKMARK THIS POST FOR LATER