Review: Mighty Mule FM350
Have you ever wanted to be able to open your gate with the touch of a button? Mighty Mule is a well known USA brand of automatic gate openers designed for home, ranch, industrial and light professional applications. The company offers a wide range of products of high quality that are affordable and easy enough to install yourself. Besides that, limited warranty period of 12-24 months of free tech support is included.
Mighty Mule Automatic Gate Opener for Medium Duty Single Swing Gates for 16 Feet Long or 550 Pounds (FM350)
The FM350 Automatic Gate Opener is Mighty Mule's most popular gate opener. It is designed for single swing gates weighing up to 550 pounds (249.5kg) or up to 16 feet (4.9m) long. This model requires an automotive or marine-style battery which is constantly charged via AC transformer but can also be connected to a 5 or 10 Watt solar panel. It is ideal for ornamental, chain link, vinyl, panel, wood and tube gates in light wind and sunny environments.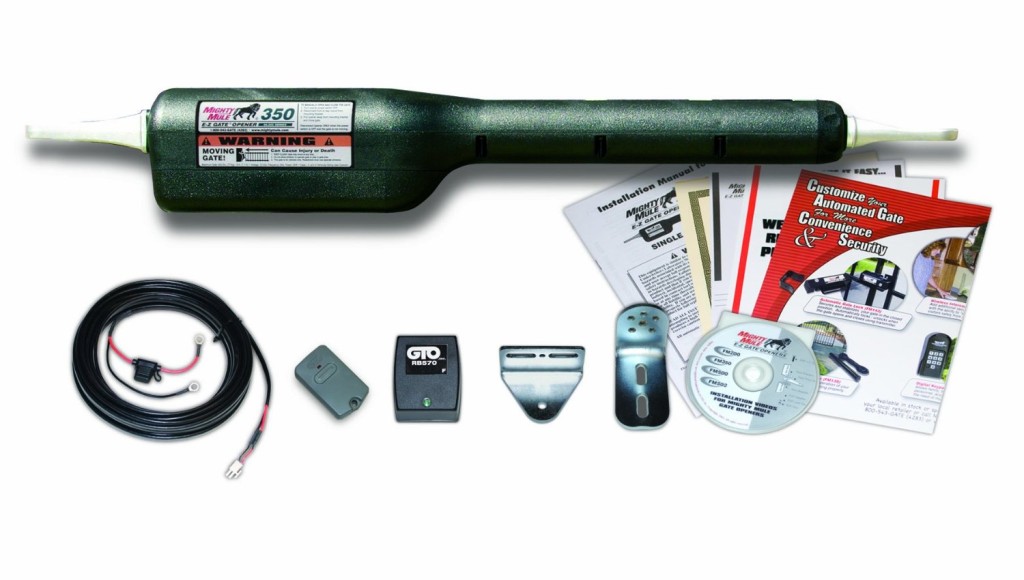 What's in the kit?
The set includes the mounting hardware, transformer, transmitter, receiver and one gate opener arm. Installation manual and step by step DVD with detailed instructions is also included, so you won't need an electrician to make it work properly. It is made of plastic and metal and its simple design, neutral black and metallic grey color makes it almost unnoticeable once it's installed on a gate. Weatherproof case for battery is not included in the kit.
BOOKMARK THIS POST FOR LATER
Features of the product
The FM350 gate opener is suitable for all kinds of single swing gates weighing up to 550 pounds and up to 16 feet in length. One piece system eliminates the need for a separate control box (transmitter, transformer and the receiver are all located in the gate arm). Setup is easy and you can do it by yourself. Automotive battery of 12 Volts which is continually charged by AC transformer provides great reserve power. Battery cable is easy to install and it has a built in fuse. In addition, the battery can be connected to a solar panel (5 to 10 Watts or higher) which makes this product eco-friendly. Mounting hardware is bolt on and requires no welding.

Dimensions and specific features
Product dimensions are 10 x 43 x 6 inches. It weighs 22 pounds. Currently the item can be shipped only within the U.S. and to APO/FPO addresses. Push-to-Open Bracket (FM148 which is sold separately) is needed for gates opening away from the property.
Item Weight: 22 pounds
Dimensions: 10 x 43 x 6 inches
Power Source: corded-electric
Voltage: 12 volts
Batteries Required: yes
Warranty Description: Limited 12 Month Warranty (from date of purchase)
Reviews from customers
This model is mostly used on smaller farms and private households and it successfully meets the needs of this customers group. Most of the users were satisfied with the performance of this gate opener and had rated the product 5 stars. The overwhelming opinion is that the relation between the price and quality is well balanced. For a reasonable price you get a good product which, with the proper maintenance, works quite well for a couple of years. Some customers had minor problems within the warranty period but they were all successfully resolved with the help of tech support.
Pros and cons
Pros
Good quality and performance
Affordable price
Easy setup
No welding needed
Long lasting battery
Solar panel option
Cons
The movement of the gate is relatively slow, but that's the way it's geared
Conclusion
The Mighty Mule FM350 is the best option for someone who is seeking good performance and options in a gate opener for a reasonable price. When put altogether, this is a high quality mid range product, with a bit slower gate opening speed. Perfect solution for lazy people who would rather sit in the comfort of their cars.
Michael
BOOKMARK THIS POST FOR LATER