Review: Mighty Mule MM-SL2000B
Well, here is another great product made by the leading gate opener company: Mighty Mule.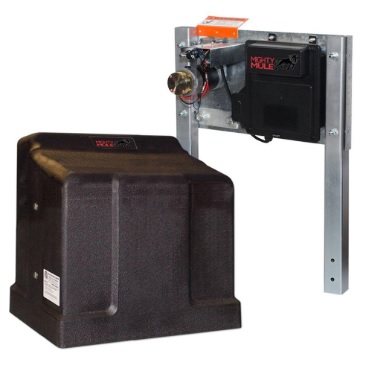 The SL2000B is an automatic gate opener made for heavy duty slide gates. The maximum gate weight which it can handle is 1000 pounds per leaf and up to 30 feet in length per leaf. Its compact design makes it ideal for tight spaces.
The model is widely used for light commercial and residential gates including chain link, tubular steel, ornamental, wood and wrought iron gates. It features adjustable obstruction sensing, auto closing and gate sequencing mechanism.
There's more
The SL2000B includes a built-in Internal Friction Brake Locking Device which offers you the possibility of locking the gate in the closed position for extra security. The model is also compatible with any Mighty Mule accessories and can be extended into a Dual swing gate opener. It is also certified to be in compliance with UL 325, 5th edition.
The power terminal block can accommodate a transformer as well as solar panels. Furthermore, it provides connections for safety loops, wands, intercoms, card readers and phone systems. A minimum of 10 watts solar panel (FM123) is needed to charge to gate opener's batteries.
What's in the box?
In this package you will find: The Operator with a control box, control board and battery; the receiver (AQ202-NB), two chain brackets (204IH), two 2" square x 48" long legs (206IH), the Operator housing (A207), 32" drive chain, 18 Vac Transformer 120 Volt and a GTO Transmitter. Also, the necessary mounting hardware is included as well as the instruction manual which is also available on the Mighty Mule website.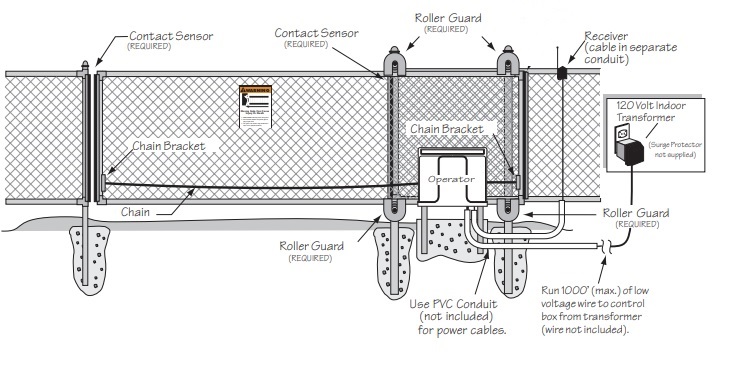 BOOKMARK THIS POST FOR LATER
Dimensions and specifications
The dimensions of the Mighty Mule SL2000B are 28.4 x 22.4 x 16.1 inches while the unit weighs 60 pounds.
Technical specifications
Gate length: up to 30 feet with 20 feet opening
Gate weight: 1000 pounds
Gate depth: 11 inches
12V motor
Motor speed: 90 rpm
Battery charge maintained by GTO Solar Panel Charger
Auto-memorization
Auto-close timer (off 3 to 120s)
The PROS
For heavy duty slide gates
Solar compatible
Compatible with all Mighty Mule accessories
Easy installation
Opening time: 1 ft. per second
Built-in internal friction brake locking device
Capable for high cycles
Great for residential gates
The CONS
A bit longer installation if you are not a handyman.
Check out Top 5 Mighty Mule gate openers. 
A word from a user
"This Mighty Mule gate opener works great for me. I have an almost 900 pounds 20-foot sliding gate and it seems to open it fairly smoothly and quickly. I was honestly very skeptical at first when examining the gate opener when receiving it. To me It didn't look very tough but I was wrong. It took me about 6 hours to install it by myself. I also used the cement mounting post for this unit and the mighty mule wireless keypad and pole that goes along with it and they all work great. Great customer service as well."
Source: Amazon
"Overall, I love it. We got a huge sliding gate (probably around 700 lbs) and this device is moving it without any problem. Installation takes some knowledge but manual is mostly well put together. The manufacturer's website is very supportive if you run into any issue."
Source: Amazon
To conclude
If you make this purchase, you will be very pleased with it. It is recommended by many users and offers convenience and security to your home, ranch or farm. The installation process can be a bit difficult for some, but don't worry customer support is there to help. Best value and high quality all in one.
BOOKMARK THIS POST FOR LATER