Ultimate warrior: Viking K2 gate opener review
There's a new cat on the market and it bears a strong name and a sturdy construction. Here is the review of the Viking K2, a gate opener which will open and bravely defend you gate system.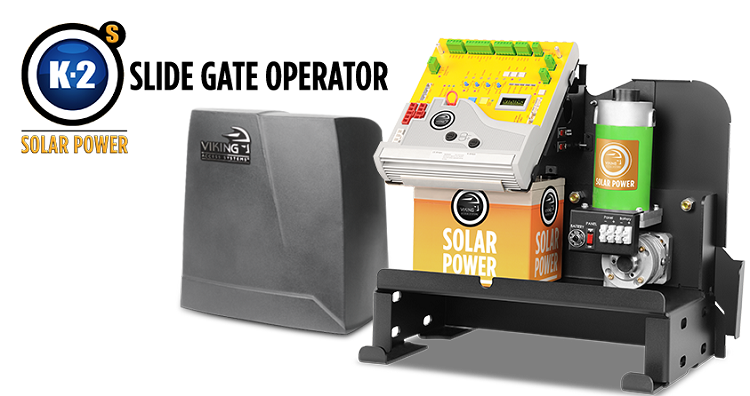 This class 1 residential gate opener is designed to handle slide gates up to 700 pounds and 30 feet in length. It is the perfect solution for high traffic residential gates and it offers you technology and efficiency in a single package.
The best part is
It is made to operate at 100% duty cycle and under extreme conditions. No matter if it is -20 degrees or up to 160 degrees F your gate opener will continue to function. Another amazing feature is the lighting and surge protection (10,000 Amps/20,000 Volts).
The LCD screens displays everything you need to know: the voltages, amps, diagnostics and gate status. While the power saving technology reduces the current draw while on stand by mode. And if a power outage occurs the Adaptive Digital Limit control maintains open and close limit position.
It gets even better
This unit has a Wireless Master/Slave kit which provides a reliable and secure wireless communication. You are given remote access (from your computer or any handheld device) to the control board settings, programming, operator diagnostics, controls, gate status and error notifications.
The Viking also offers you the backup battery which provides 100 continuous cycles at 100% duty cycle. A low voltage option is also included.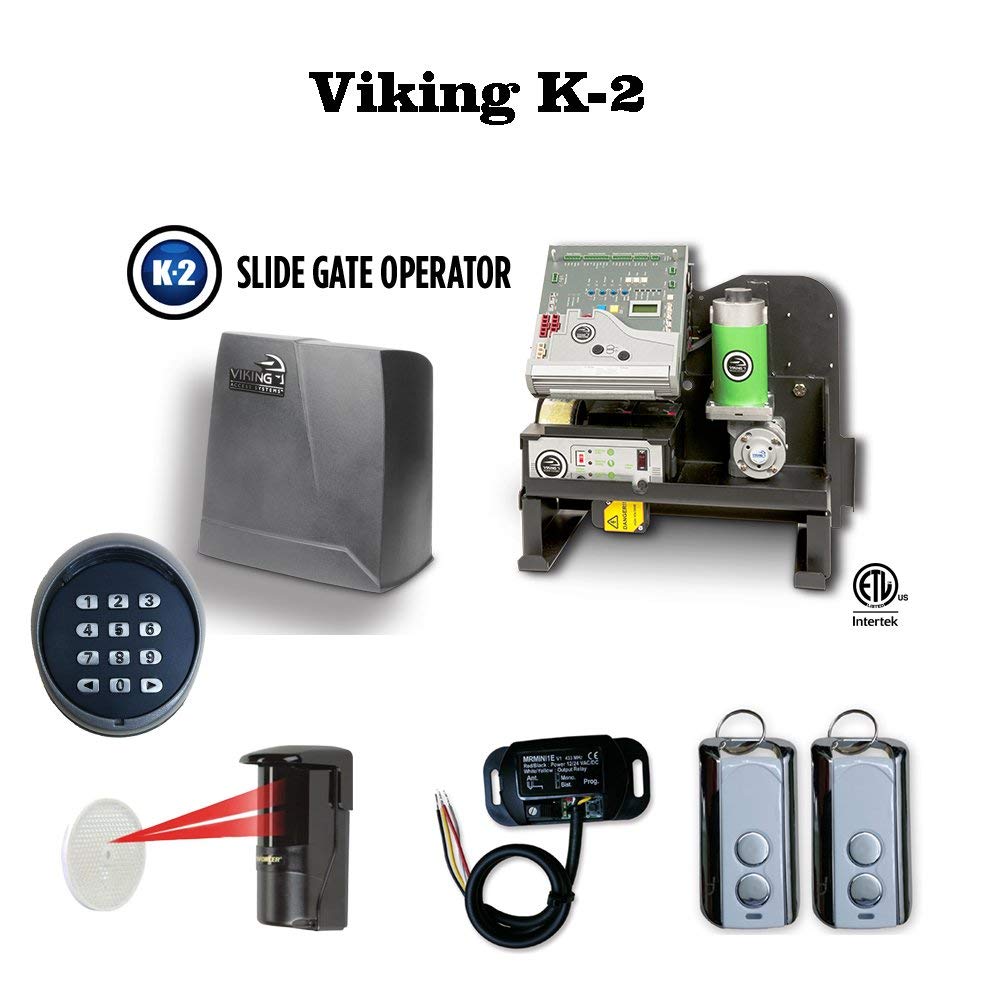 What's in the box?
In this warrior kit you will find 1 complete gate opener (chassis, motor, gears, circuit board, cover), two 7ah batteries, two chain brackets, two chain bolts, 25 feet of chain and 2 warning signs. The installation and user manual can be found online on the Viking website.
BOOKMARK THIS POST FOR LATER
Technical specifications
Maximum gate size: 30 feet
Maximum gate weight: 700 pounds
Maximum number of cycles: continuous duty
Motor: 24VDC with 1/2hp
Electrical requirements: 115V or 230V single phase
Operating speed: 12" per second
Operating temperature: -20 degrees F up to +160 degrees F
Warranty: 5 years
The Pros
Sturdy construction
LCD diagnostics display
Digital limits
Removable power supply
Elegant look
Built-in heater
Lighting strike protection
V-flex control board
The Cons
A word from the users
"I just installed my 6th Viking K2. It had an issue with the battery backup. Tech support must have spent an hour with me on the phone, but we fixed it!! They are dedicated professionals that took the time with me and didn't have to. Viking is now the only operator I will use!! I am a loyal customer now. Thank you!!!"
Source: Viking Access Systems
"I've been installing Vikings over the last 7 years. Tremendous success, excellent customer service. Viking even gave me a NX circuit board as an emergency backup for my clients. I haven't had to use it yet because I haven't had any problems​. I believe in this company my success is based on the products I install every day."
Source: Viking Access Systems
Also check out the top 3 sliding gate opener under 200$!
Final verdict
As you can see from this review, Viking offers an excellent product which will not fail you. The company respects and pays attention to the customer needs. The Viking K2 is a reliable, sturdy product which will not fail you even during low or high temperatures. This warrior is here to protect you and keep you safe.
BOOKMARK THIS POST FOR LATER