Review: Mighty Mule MMDIA30D Diamond Series Automatic Opener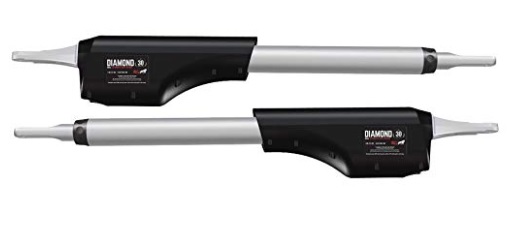 An honorable member of the Mighty Mule's diamond series is the Mighty Mule MMDIA30D automatic gate opener. It is carefully designed for dual swing gates that have the maximum length of 16 feet and the weight of up to 500 pounds per gate panel.
Mighty Mule's exclusive dual sense technology is one of the features of this unit and this meets the UL 325s 6th edition standards for additional protection and safety. It gives the users additional precaution and safety and spares them from getting a secondary entrapment device.
The best part is
This unit is compatible with all gate types including tube, panel, vinyl and wood and chain link. It is perfect for residential gates, agricultural gates, for farms and ranches. In addition, if you live in sunny areas, you can spare your electricity bill the extra cost by adding a solar panel which will power you gate opener.
Everything you need is there for your DIY setting and Mighty Mule went an extra mile and provided a 12-volt battery for reliable operation and performance.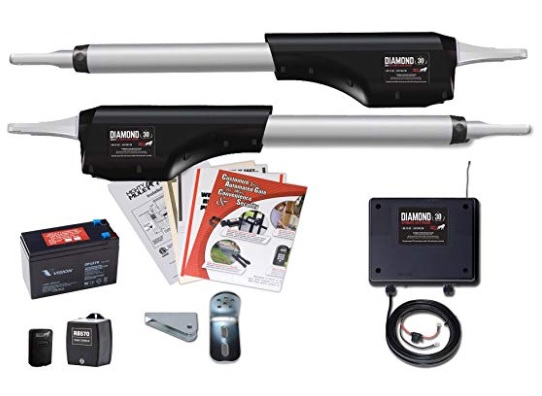 What's in the box?
With this purchase, you will receive a Diamond single gate operator, a control box with control board, a battery box (with battery), 1 single button remote (model # Fm135) and AC transformer (model # RB570). All the hardware you require is also included as well as a detailed installation manual for easy installation.
BOOKMARK THIS POST FOR LATER
Dimensions and specifications
The dimensions of this gate opener are 35 x 9 x 5.2 inches and it weighs 22 pounds.
Technical specifications:
Gate Length: up to 16 feet (4.9m)
Gate Weight: up to 500 pounds
Gate Type: Dual Swing
Warranty: 12 months
Battery: 12 volt/auto
| | |
| --- | --- |
| Maximum Gate Length | Maximum Gate Weight |
| 16 ft | 150 lbs |
| 14 ft | 250 lbs |
| 12 ft | 350 lbs |
| 10 ft | 450 lbs |
| 8 ft | 500 lbs |
| 6 ft | 500 lbs |
The Pros
Reliable
Compatible with different gate types
Solar compatible
Dual sense technology
Additional safety
Easy installation
20% faster than other gate openers
Unlimited access to a 24-hour technical support
The Cons
Solar panel bought separately
Users say
"This gate operator is by far the best value on the market. Super fast, super quiet, and a great price! No more getting in and out of my truck to open my gate in the rain. Great job Mighty Mule."
Source: Mighty Mule website
Also check out Top 5 Mighty Mule gate openers.
To conclude
When it comes to high quality, everyone know that Mighty Mule is the best choice. They never let down and I can say they are the most popular ones in these branch. The Mighty Mule MMDIA30D delivers a reliable, fast and silent operation. Although it is a bit pricey the value is there, the flexibility is there and the option of being eco-friendly.