USAutomatic 020345 Medium – review
Remember USAutomatic Sentry – the top quality gate opener which is one of the best on the market. Well, here is another great product made in USA and it is the USAutomatic 020345 Medium automatic gate opener.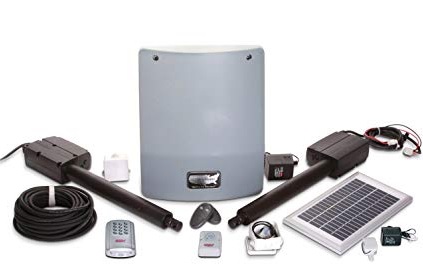 This American jewel was made for different types of gate: farm gates, chain link or ornamental gates. It is a double gate opener for gates ranging from 12 to 20 feet in length. Its 12 vdc battery can be powered in two manners: using an AC transformer, or using the included solar panel kit. The benefits of the solar charging is that it is suitable for remote installations and qualifies you for a 30% federal tax credit.
It gets better
Another benefit of the solar charging is that it will provide up to 8 weeks of operation with no sun! Sounds amazing, right?! And to spice things up, the Plug N Go wiring harness excludes the need for wiring. This makes your installation process quick and simple and it usually lasts up to 2 hours maximum.
A linear actuator is also included and it provides 400 pounds of thrust and the compression rating of 1000 pounds. The estimated open and close time is 16 seconds and the gate weight will not affect it.
What's in the box?
USAutomatic 020345 Medium Double Gate kit includes: All mounting hardware, two 2 button transmitters, a battery charge controller, a 5-Watt solar panel kit for solar battery charging, an AC transformer for optional AC battery charging, a charge cable extension kit, a useful installation DVD with a full color installation manual. And the best part is that is has a control box with preinstalled components and linear actuator.
Dimensions and specifications
The dimensions of this gate opening beast are 29.1 x 9.6 x 31 inches while it weighs 68.5 pounds.
Technical specifications
Gate type: Double gate
Opening time: 16 seconds
Gate length: up to 20 feet
Battery: 12V
Warranty: 3 years
THE PROS
High quality
Sturdy construction
Long lasting
Elegant look
Solar compatible
Easy installation (2 hours max)
Exceptional customer service
THE CONS
Potential squeaking noise (oil it up!)
BOOKMARK THIS POST FOR LATER
To conclude
This all American gate opener is energy efficient and provides the best quality money can buy. The most important thing is that when you buy it, you know that it will last for a long time. After you go through the 2 hours installation process, you will be a proud owner of an USA made, elegant looking gate opener. Highly recommended, worth the money given.