Review: Mighty Mule FM200, DIY Automatic Gate Opener for Single Swing Gates
Ever since 1987, the folks at
Mighty Mule
have been responsible for some of the best automatic gate openers on the planet. The gate opener technology that they have helped to pioneer is incredibly flexible and adaptable to a wide variety of situations, scenarios, and installation, providing individuals with the opportunity to install they are own automatic gate opener without having to call in the professionals to tackle it for them.
The Mighty Mule FM 200

The Mighty Mule FM 200 is regarded as the best "bang for your buck" DIY gate opener available from the company, and one of the most simple and straightforward pieces of equipment that you'll be able to install on your own. The entire system is relatively compact and intended for single swing gates of up to 12 feet long and 300 pounds in weight, and can be installed in about three or four hours – even faster if you have a couple of other hands on deck to help you out!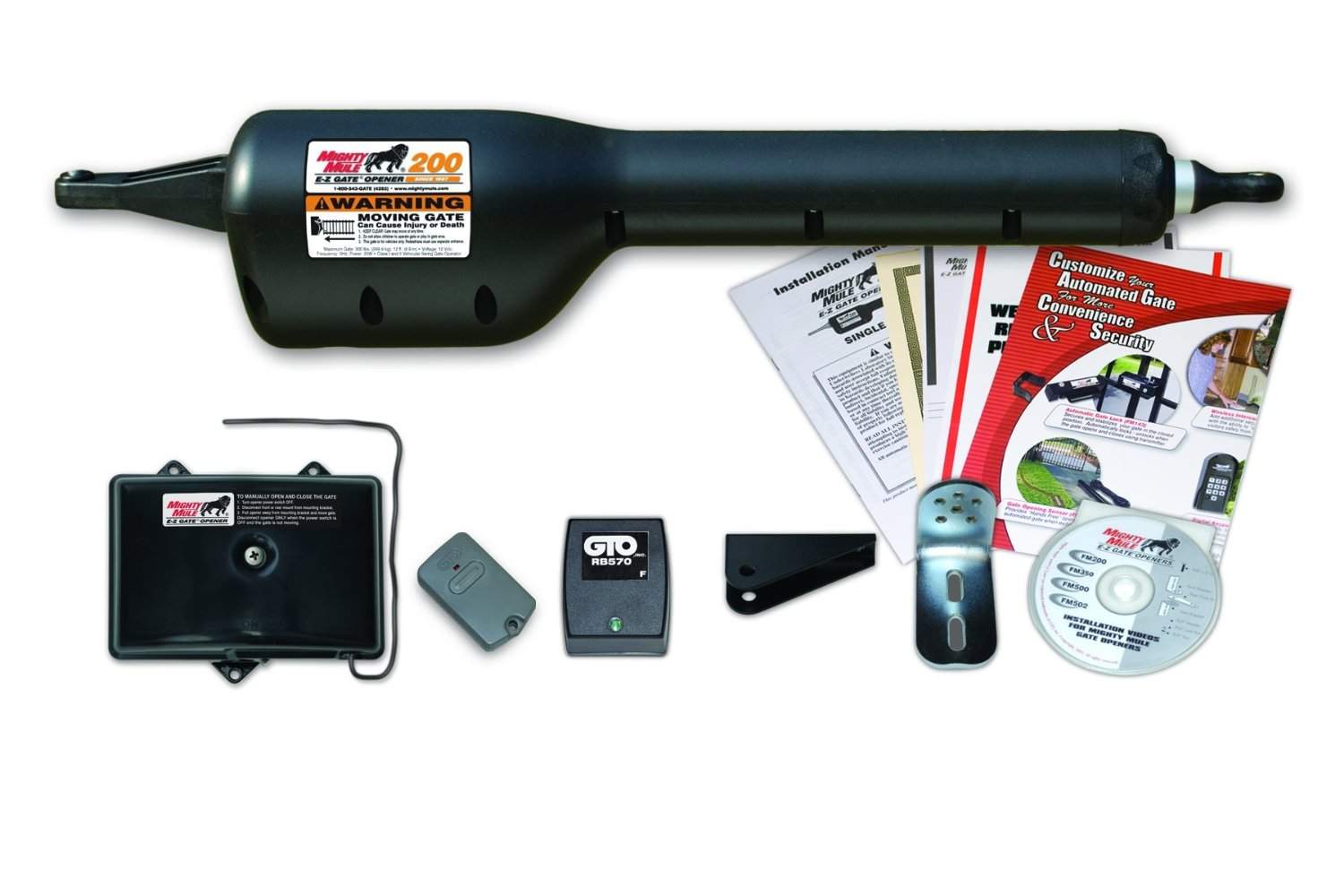 Manufactured right in the United States of America, this Mighty Mule automatic gate opener can take advantage of multiple different "power plants" to provide you with the utility of an automatic gate opening mechanism. It comes with a system that can be wired directly to an automobile battery for "cable free" use, but can also be hooked up to a solar panel or wired directly into your electrical grid to provide consistent power as well.
What's inside the box?
You'll have instant access to absolutely everything you need to get started with the installation right out of the box. Your purchase of the Mighty Mule FM 200 will guarantee you receive the gate opening piston module, the power plant and car battery module, the wireless remote control system, and all of the mounting brackets and hardware necessary to get your new automatic gate opener up and running in record time.
BOOKMARK THIS POST FOR LATER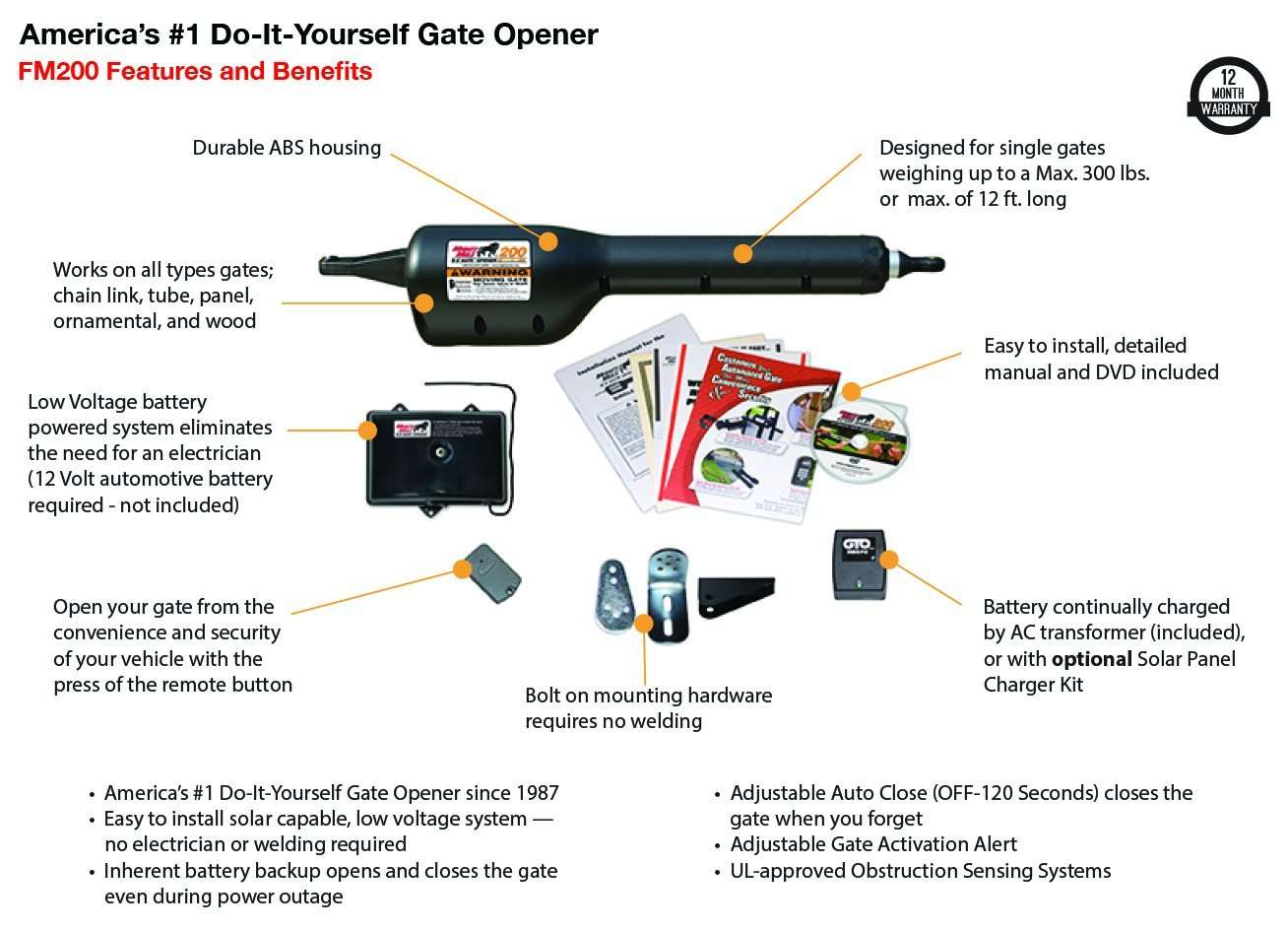 Better than that, you'll also be able to take advantage of detailed instructions in a variety of languages (and in installation DVD with tips and tricks to help the process go a bit smoother), guaranteeing that you're able to install this command and control module system all on your own without any headache or hassle whatsoever.
Design & Special features
The Mighty Mule FM 200 setup is considered to be the best value available from this company because of the smartly designed and inexpensive solution it provides. Designed specifically for gates that way up to a maximum of 300 pounds or are at maximum 12 feet long, this is one of the most versatile automatic opening systems you'll find on the market today.
Features include:
The ability to be installed on a variety of different gates (including chain-link, tube, wood/metal panel, vinyl, etc.) with household tools
The ability to be powered by a 12v automotive battery, traditional electrical grid already wired up to your home, or an extra accessory solar panel
Completely waterproof and weather resistant construction and design
Inclusion of an automatic remote opening system that works right out of the box
| | |
| --- | --- |
| Part Number | AR2700 |
| Weight | 36.8 pounds |
| Dimensions | 14.4 x 13.9 x 10.9 inches |
| Model number | AR2700 |
| Power supply | AC 120V. Single Phase Motor |
Incredibly compact, the Mighty Mule FM 200 measures just 8" x 32" x 6" and weighs just a bit over 16 ½ pounds. We are talking about a tremendously compact piece of gate opening technology here!
In Summary
At the end of the day, if you want to be sure that you are getting your hands on a quality piece of equipment, the kind of gate opener technology that you know you are going to be able to rely on every single day from here on out – regardless of the weather or any other factors – and want to be able to install that system all on your own, you have to be at least a little bit crazy to move forward with anything other than the Mighty Mule FM 200.
It's just that good!
BOOKMARK THIS POST FOR LATER