CO-Z Automatic Sliding Gate Opener – review
This article will present a full review of the CO-Z sliding gate opener along with customer reviews.
CO-Z automatic sliding gate opener is rated as being the best sliding gate opener for under 200$. This sturdy stainless-steel gate opener can open gates that weigh up to 1400 pounds and re up to 40 feet long. As you can see it packs enough power to sustain and support heavy duty gates.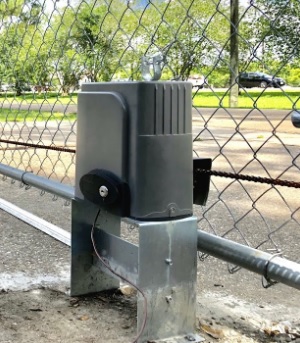 This sliding gate opener also features an extremely convenient remote control that could easily open your gate at the maximum distance of 100 feet. And if you need an extra remote for your numerous family members and friends, the CO-Z offers a practical solution: the possibility of adding up to 23 extra remotes that can control this system.
It gets better
When it comes to safety, this system possesses two main safety systems. The first one is that the gate must be placed on level ground and cannot operate on an incline while the second one is the RF hopping code technology which stops the remote code from being accessed by other people. And if a power outage or an emergency, please do not panic, just use the manual release key.
With this gate opener you are guaranteed a rust-free performance thanks to the stainless-steel construction material. The chain is also protected from damage due to the protection lid, this also gives the gate smooth operation and it extends the service time.
There's more
Another beauty of this gate opener is the auto-close option which allows you to set the gate to close 12 seconds, 24 seconds or 36 seconds after it is opened. So, you just press the open button and continue driving knowing that the gate will be safely closed.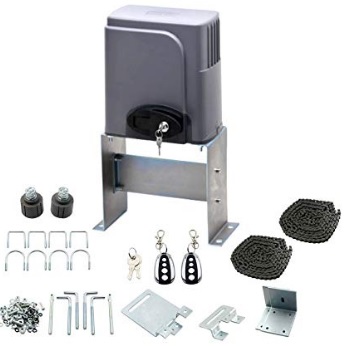 Check out the ALEKO AR1550 sliding gate opener.
What's in the box?
The gate opener has arrived and you rush to open the package! Inside you will find one sliding gate opener unit, 20 feet of chain (which can be split into 2 x 10 feet chains), two remote controls (for you and your better half), two manual release keys, mounting hardware, the installation parts and an always useful user manual.
Dimensions and specifications
This sliding gate opener has the dimensions 10.8 x 10 x 17.3 inches while it weighs only 34.1 pounds.
Technical specifications:
Maximum Gate Weight: 1400 pounds
Maximum Gate Length: 40 feet
Operating Temperature: -4°F~+122°F (-20°C~+50°C)
Power Supply: 110V AC, 60Hz
Gate Move Speed: 43ft/min (8.5″/second)
Motor Speed: 55 RPM
Output Power: 200 W
Remote Control Range: 100feet (Frequency: 433.92 MHz)
Output Shaft Height: 48mm
Output Torque: 16Nm
Limit Switch: Magnetic Limit Switch
Noise: <56dB
Duty Cycle: S2, 15 Minutes
BOOKMARK THIS POST FOR LATER
PROS
Ideal for powerful sliding gates
Affordable price
Possibility of adding up to 23 extra remotes
4 buttons remote: open, close, stop
Extra protection of the remote code due to RF hopping
Gate closing timer
Stainless steel
Rust-free performance
Smooth operation
CONS
Does not run on batteries
Installation could be a bit hard (so check out the video below)
To conclude
Need a sliding gate opener? You have a limited budget? Well this definitely is the best and a reliable option. It represents an ideal match for heavy duty usage for large swinging gates.  Sturdy, silent, made for every weather condition and always there to open the gate for you. Check it out and say goodbye to manual gate opening.