Being the solar power is the future, this article will review the best solar powered gate openers currently available on the market.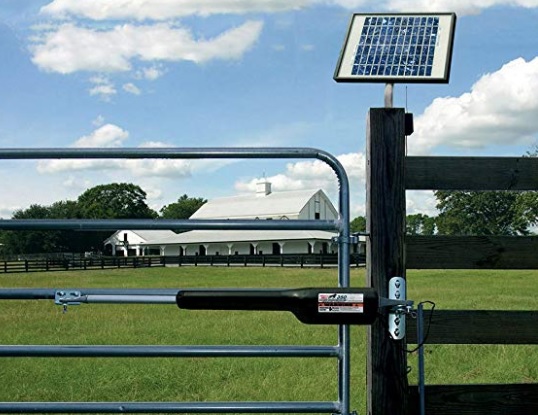 This is an eco-friendly and a cheaper solution since you do not have to pay the extra electricity. However, it is also great for people whose gate is far from the first available electric line. Solar gate openers are powered by the sun and the energy gathered is preserved in their batteries.
Take a minute and check out the top 3 solar gate openers.
BOOKMARK THIS POST FOR LATER
1. Mighty Mule EZGO
Single swing gate opener – the Mighty Mule EZGO is a solar gate opener designed for gates that weigh 550 pounds and are 16 feet long. It is suitable for different gate types such as wood, vinyl, tube, panel, chain link and ornamental. Being a solar gate opener, this mechanism is the perfect solution for people who need a gate opener but do not have electricity at the site of the gate.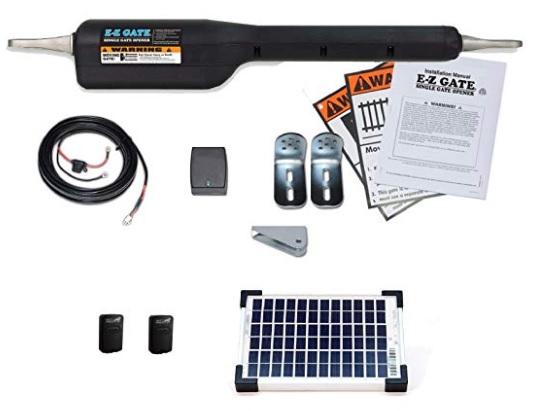 In addition, no need to worry in cases of power outages, a fully charged automotive or marine battery has up to 1500 back-up cycles.
It get's better
No need to call an electrician! Mighty Mule has made the installation process easy and has provided you with an easy-to-read manual along with a step-by-step DVD. And in case of any trouble, just call the 24/7 online troubleshooting and customer support.
What's in the box?
This box of delight includes a MM360 automatic gate operator, 2 single button remotes, a 10W solar panel, mounting hardware and the detailed instruction manual and DVD.

Dimensions and specifications
The dimensions of the Mighty Mule EGZO are 43.2 x 12.8 x 8.8 inches and the device weighs 29.7 pounds.
Technical specifications:
Maximum height: 16 feet
Maximum weight: 550 pounds
Solar panels: 10W
Battery: 12V
Warranty: 12 months
Check out the full Mighty Mule EZGO review.
THE PROS
Suitable for different gate types
12 months warranty
Great customer service
DIY installation
Environment friendly
Saves energy consumption
Solar capable
Affordable price
THE CONS
Battery not included
Protection from heavy rain needed
Check out other Top 5 Mighty Mule gate openers.
To conclude
If you are looking for superior performance provided to you by a mechanism powered by the sun, Mighty Mule EZGO is the choice for you. It is made for different gate types, has an easy DIY installation and it keeps your electricity bill low. Solar gate opener with an affordable price and warmly recommended by many users.
2. Ghost Controls TDS2XP
Single or dual swing gate opener – Ghost Controls TDS2XP is a heavy-duty automatic solar gate opener designed for gates that are 20 feet tall and weigh up to 900 pounds. It is adjusted for tubular gates and suitable for chain link, decorative, ornamental and plantation style gates. The system is certified to UL325 7th Edition Standard.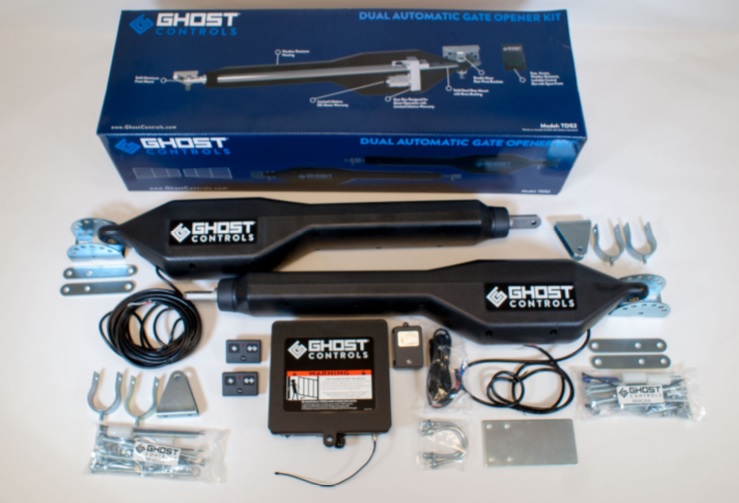 If you wish to automate your tubular or agricultural style gates, this solar gate opener is the superior solution for you and the easiest one to install. Almost all commercially available tubular gates can be open and closed with ease due to the specifically tailored specifications and capacities. In addition, this innovative gate opener also offers a high quality solution for commercial and residential properties as well.
It is easily installed (a few hours) and all the required fasteners and installation hardware are included in the kit. The solar panel is a part of the kit, so no need to purchase additional ones.
What's in the box?
This package includes one operator arm with 6 power/control cable and the second operator arm with 30 foot power/control cable, a 10-Watt Premium Monocrystalline Solar Panel (non-diode for maximum charging potential), two 3-button Standard Remote Controls (AXS1), mounting arm, brackets, and fasteners.
That's not all
To make your gate experience more enjoyable, Ghost Controls also offers optional accessories: Battery Box Kit – includes two 12 Volt 7 Amp Hour batteries, Wireless keypad, 5-button premium remote and wired vehicle exit wand.
Dimensions and specifications
The system has the dimensions of 41 x 8.5 x 10.5 inches and weighs 46 pounds.
Specifications:
Maximum height: 20 feet
Maximum weight: 900 pounds
Solar panel: 10-Watt Premium Monocrystalline
THE PROS
Suitable for different gate types
Solar compatible
Solar panel included
Quiet and swift
Lifetime warranty on motor and gear
Easy installation
Easy access and lockable system control box
Easy to program the control panel
THE CONS
Battery not included
Check out Ghost Controls TSS1.
BOOKMARK THIS POST FOR LATER
To conclude
If you have a dual swing gate that requires a gate opener, this is a perfect match. Your gate opener will be eco-friendly and easily installed on your gate. The system is easy to program and the device itself works quietly and smoothly. Every opening and closing of the gate is done flawlessly and with style. Excellent quality, excellent service, excellent price.
3. Liftmaster LA412PKGU
Dual swing gate opener – Liftmaster LA412PKGU is the most optimized solar gate opener currently available on the market. It is designed for gates that are up to 16 feet tall and weigh around 850 pounds. In addition, this residential gate opening system meets the UL 325 Safety Standards.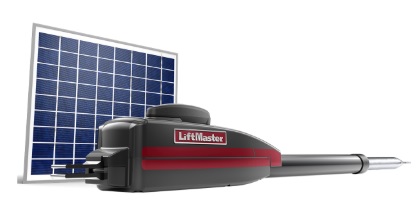 It has a Security + 2.0 which guarantees safeguards access to the property along with an encrypted signal that will virtually eliminate interference and extended the range. Another great feature is the reversing sensor that automatically reverses the gate when it detects an obstruction.
That's not all
The solar-ready ultra-reliable system power the gate when you do not have power source nearby. You are also safe in case of power outages. This heavy-duty cast aluminum gate opener is quick and smooth. The gates are always simultaneously closed and the bi-part delay system adjusts the speed and position of each wing and ensures that they close correctly.
The best part is
You can control and monitor the gate with myQ smartphone app. In addition, you can close your gate with a simple tap on the phone and also have the option of using the real-time alerts.
BOOKMARK THIS POST FOR LATER
What's in the box?
With the purchase, you will receive two operator arms, a 12V solar panel, a standard control box, an internet gateway and LMRRUL – monitored retro reflective photo eye sensor.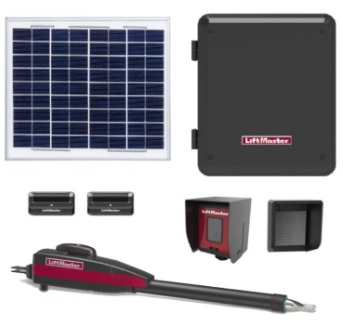 Dimensions and specifications
The Liftmaster LA412PKGU weighs 89.5 pounds.
Technical specifications:
Maximum gate length: 16 feet
Maximum gate weight: 850 pounds
Exceptional standby power: up to 126 days
Best in class solar performance: around 100 cycles per day
Solar system: accepts up to 30W 12V solar panels
Warranty: 2 years
THE PROS
High quality gate opener
Aesthetically pleasing
Solar compatible
Excellent safety and security
Smartphone app
Great remote distance
THE CONS
You may require addition help with the installation.
Check out Top 5 Liftmaster gate openers.
To conclude
Just by looking at it, you can see that the Liftmaster LA412PKGU is one high quality sturdy solar gate opener. It is a perfect investment for people that require a gate opener and a security system as well. This gate opener provides unmatched performance, reliability and power whenever you need to access your property safely and quickly. Highly recommended system by a renowned company, worth the money.
BOOKMARK THIS POST FOR LATER